If you're busy sending emails to potential dates online and are frustrated with the lack of response, our friends at online dating site Zoosk have come up with some simple suggestions on how to move the process along in their "7-Step Guide to Landing a Date."
Here's a recap, along with a cool infographic to help ramp up your Internet dating life so you can meet that special someone offline.
1. Add a date activity to show someone you really do want to go on a date.
In a recent survey of 3000 of their members, Zoosk found that mentioning movies as a favorite activity in you profile and even suggesting a movie date increases your response rate to your email messages by 91%. Yes that's a big number and one worth viewing film trailers for. Other keywords included the beach (59%) and a park (39%).
2. Send emails in the morning if you're a man; in the evening if you're a woman.
Guys will increase their chances of a response by 10% if they send emails between 9am and 10am, while the best time for women to send email messages is between 10pm and 11pm. So ladies, send that flirty email and go to sleep with a smile on your face and avoid sending an email from 2pm – 3pm.
3. Respond within 24 hours.
As for when you should respond to an email, 94% of those surveyed said within 24 hours. I have to agree with this one. Remember when someone is emailing you, they're sending emails to many others at the same time. Often the squeaky wheel gets the love deal, so playing too hard to get will likely backfire.
4. Focus on what makes you unique.
If you want to stand out in a crowded digital playground, talk about your date's hair, their gorgeous eyes, fun or geeky glasses, and even their tattoo. Remember to be fun and flirty. Stay away from the sexual comments, which received a digital thumbs down from Zooskers.
One of the biggest challenges I see singles struggling with is what to write in their first email. First impressions do really matter and your email should be more than, "hey." Here are a few interesting tidbits.
5. Character count matters.
Guys didn't seem to care how long the first message was from a woman, but 40% of the women did indeed want to see a message that was longer than a full-length tweet of 140 characters.
6. Expect to send 5 emails.
Finally, how long will it take to get to the first date? About half of the singles polled said they send 5 email exchanges before putting his or her name on their date card.
7. Schedule your first date.
If you follow this plan, you should be filling up your date card and taking your relationship offline.
Wishing you much love and joy in cyberspace, or wherever you may roam. xo
Are you using any of these tips while looking for love online?
Julie Spira is America's Top Online Dating Expert and Digital Matchmaker. She was an early adopter of online dating and creates Irresistible Profiles for singles on the dating scene. For more dating advice, follow @JulieSpira on Twitter and sign up for the free Weekly Flirt Newsletter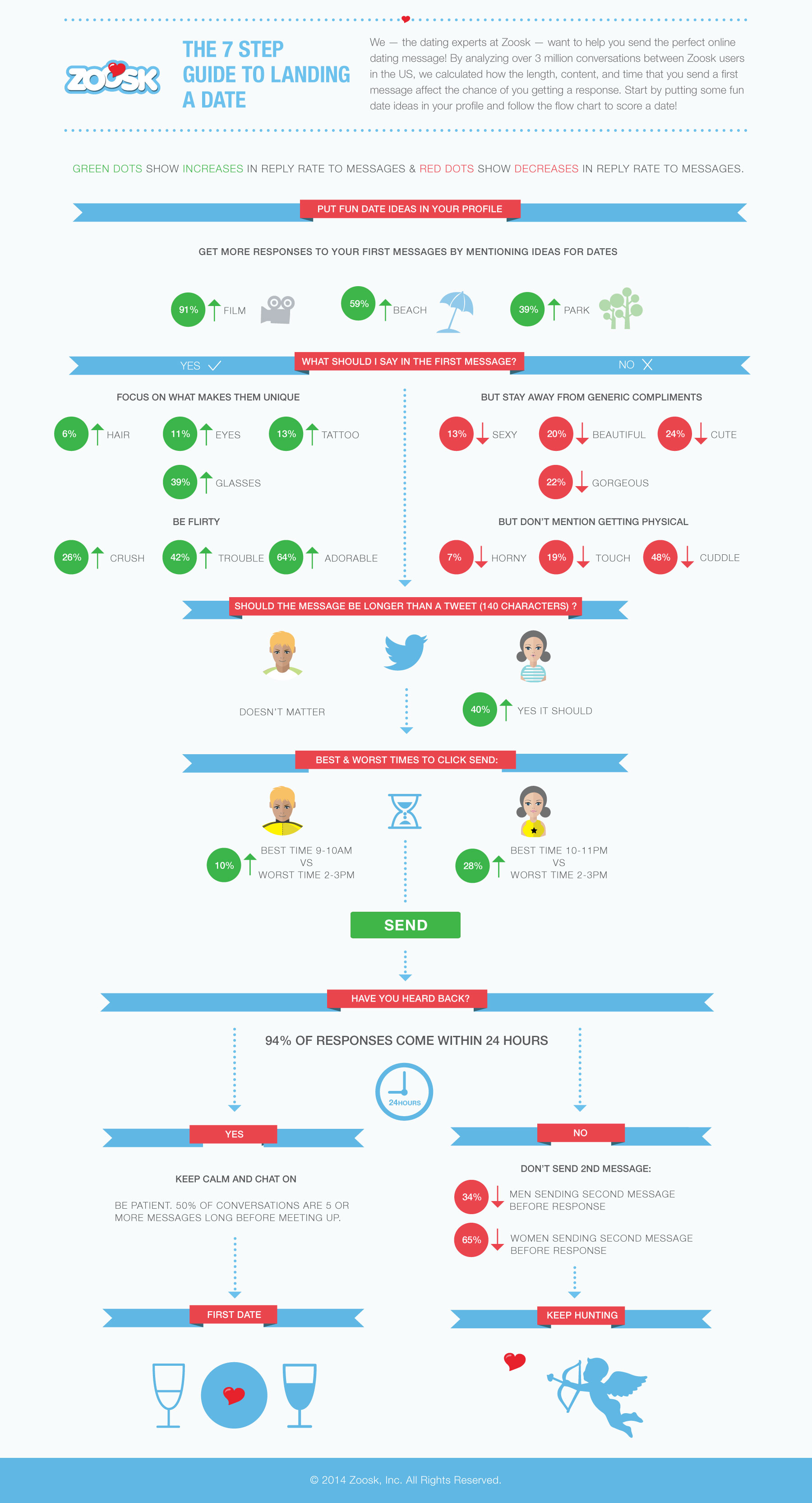 Love never goes out of style, but did you know the entire month of August is National Romance Awareness Month?
We're so delighted to announce that Cyber-Dating Expert has teamed up with ProFlowers to make your life a bit more romantic month in our Romance and Roses Giveaway.
We'll be giving three lucky winners 2-dozen roses at the end of August.
Just follow the instructions below to enter to win these lovely roses.
PLUS ProFlowers is hosting a Love is a Journey contest and will be sending a lucky couple to Europe for 18 days! Comment on our blog and upload a photo of what romance means to you on Twitter or Instagram using the hashtag #LoveIsAJourney and #ProFlowersSweeps for a chance to win an 18-day European cruisetour from Pro Flowers.
This giveaway offer is valid in the continental United States for adults 18+.
Follow @JulieSpira on Twitter for dating advice.

It was an honor and joy to be invited to Match.com's headquarters in Dallas with the top relationship experts in the country.
After a full day of meeting with their executives, we finished the day with an interview on our top dating tips for a first great date.
From what to wear to where to go, we hope you enjoy our video below.
Questions we answered included:
1. First date: Coffee Drinks or Dinner?
2. Should you dress up or down?
3. Is it a group date or a real date?
4. Do you leave early if there are no sparks on a date?
5. Who pays for the first date?
6. Mamas boys: runs or cuddle?
7. One question you should always ask on a first date?
Enjoy our video and post your comments as well.
What are your first date tips and deal breakers?
Julie Spira is America's Top Online Dating Expert and Digital Matchmaker. She was an early adopter of the Internet and creates Irresistible Online Dating Profiles for singles on the dating scene. For more dating advice, follow @JulieSpira on Twitter and sign up for the free Weekly Flirt newsletter.

As online daters and those downloading the Tinder mobile dating app continue to watch Tinder explode, it's no wonder that researchers, psychologists, and dating experts all have opinions on whether Tinder is helping singles or is just a game for people to play on their cell phones as they swipe left or right at the millions of profiles nearby.
On WCCO in Minneapolis, I spoke with radio show host John Hines about the pros and cons of Tinder, using mobile dating apps, and why I think Tinder can help women who are shy to connect with a potential date online and meet them offline.
Listen to our radio broadcast from August 14, 2014 at 11:00am on WCCO.
Now let's talk about the 'Tinderella syndrome' and if it really exists or not. Are women really suffering from spending too much time on Tinder? Is it affecting their ability to meet offline (IRL?)
The Daily Mail ran a story claiming that 'Tinderella syndrome' was ruining the love lives of women to the point that they wer unable to approach men in person offline. They went as far as saying that flirting techniques have been diminished due to the frequent use of the Tinder mobile dating app.
While psychologist Emma Kenny believes that online dating breeds impatience and insecurity since women are inundated with an abundance of potential dates that they become overwhelmed and stop investing the same effort into meeting dates offline.
Sure online dating is a numbers game and Tinder is responsible for over 10 million matches a day as well as 850 million swipes a day. Those are big numbers and it's easy to fill your date card.  Remember, not everyone on Tinder is looking for a love connection. Tinder's founders believe that they are a social discovery app and that using the site an help make new friends with similar interests.
Some will use Tinder as a game and keep playing after a swipe or two. Others will take the time to read the profiles of potential matches before starting a private online chat that will hopefully lead to an offline meeting. Otherwise, you'll just end up with a digital pen-pal, if that's what you want.
Here are the reasons I don't believe in the Tinderella Syndrome.
1. Mobile apps make it easier to connect with people close by. Those who are interested in meeting someone close by can easily log onto Tinder and view a profile instead of just swiping left or right to give a thumbs up on a profile. If the profile indicates they're really looking to meet someone for a relationship, they can start chatting instantly if it's a mutual match.
2. Almost 35% of married couples met online. A study from the journal Proceedings of the National Academy of Sciences, showed that about 1/3 of marriages were as a result of online.
3. Pew Research states that 59% of Americans think that online dating is a good way to meet people. With over half of Americans thinking online dating is the way to go, remember that most singles are using mobile dating apps, which speed up the process.
4. Mobile dating apps and online dating sites help those who are shy communicate with potential dates. It's my opinion that using dating apps and dating sites only helps those who are too shy to approach someone in a bar to say hello. By chatting online, I think self-esteem can be improved and communicating skills with potential dates will also become easier. The key is to take your relationship from online to offline and meet IRL.
5. Online dating stigma is pretty much gone. It's a matter of time that the stigma for Tinder or mobile dating apps for hookups will also diminish. Already we are seeing many relationships of couples who've found love on Tinder.
6. If your mutual match isn't communicating with you or interested in meeting, just move on. Tinder reports they are seeing 10 million matches a day and 850 million swipes per day. With all of that activity, it's pretty easy to figure out who's playing the game and who will want to meet. If their profile is rather empty and they only say, "hey," it's probably not going to become a meaningful relationship.
In my conversation with John Hines from WCCO – CBS Radio, I told him that Tinder is known to have a membership base of mostly 18-34 year olds. Many aren't looking for a serious relationship and are hooking up. But some are truly looking for a new digital outlet to find a date or love.
Yes Tinder is like a game and it asks you to keep playing instead of suggesting that you meet in person. There will always be those who love the digital ego boost of flirting online, with or without Tinder. However, there will always be those who truly are looking for a connection. Tinder makes it easy to connect. It's up to you to decide if the relationship is ready to move offline.
As time goes on, more-and-more singles in their 40s and up will also be using Tinder, due to the ease of creating a profile and the flexibility of connecting on the fly with singles in their geographic area.
Do you believe in the 'Tinderella Syndrome?'
College Humor came out with a cute parody about Tinderella – a Modern Fairytale worth sharing.
Photo credit: College Humor
Julie Spira is an online and mobile dating expert and founder of CyberDatingExpert.com. She was an early adopter of online dating and mobile dating and helps singles find love on the Internet with her Irresistible Profiles programs. For more dating advice follow @JulieSpira on Twitter and sign up for the free Weekly Flirt newsletter.

This week, we're excited to share a post for women daters from our guest blogger, Joshua Pompey.
Finding a quality man on the Internet isn't always easy.  Sure, they're out there in large quantities, but trying to distinguish between the good ones and bad ones can be daunting.  One false move and you could wind up on a date with yet another serial dater.
I'm here to tell you not to worry.  Know that finding a quality man online isn't as tough as you might think.
Let's take a look at the five signs you are talking to a great guy online.
1.  His photo gallery tells the right visual story. Some men will write profiles and emails that seem to good to be true.  These men are interesting, charming, and fun to talk to, but do his photos match the image he's portraying, or are they filled with four similar pictures by himself in his room? Men with a lot to offer usually have a vast amount of life experiences and will show them off in many ways throughout their photo gallery. The more pictures you see of a man with friends, co-workers, family members, and on random adventures, the more likely this man is someone interesting and worth pursuing.
2.  His first email is unique, fun, and engaging. 

You may be attracted to his photos and you may even like this unique profile. However it appears that he copied and pasted the same message to twenty other women that day. Spammed emails are a huge sign that you are dealing with a potential serial dater, a man who is just not that interesting, or is just lazy. If his email is personalized, he just might be a great guy.
3.  His profile is positive. 

A man worth engaging with online is a man who is happy with his life.  Any profile that is filled with negativity or qualities of what a man doesn't want in a woman, is a red flag that the man might be jaded, not all that happy, or a negative person in general.  If you avoid the negative profiles, you'll find someone who appears to be happy with his life.
4.  He won't say,"I'll tell you later" in his profile. Any man that takes online dating seriously is going to put a lot of effort into the creation of his profile and fill it out completely.  This is because he will actually want to find someone to be in a serious relationship with.  A man with a half-blank profile may be sending a message that he has something to hide.
5.  He doesn't log on all day long.
Do you want to know why some men log in every five seconds?  Because they are talking to tons of women online. Chances are he might be a serial dater. Quality men don't have time to log on dating sites all day long. They're busy with work or their active lives.
What quality traits do you find in a man while looking for love online?
Joshua Pompey has been helping online daters to succeed through his products and services at a success rate of over 99% since 2009. For more information visit http://jpompey.com/ladies/online-dating-advice/ for free dating advice.
Follow @JulieSpira on Twitter and sign up for the Cyber-Dating Expert Weekly Flirt newsletter.