As Valentine's Day is practically around the corner, one of the most popular questions I receive as an online dating expert is how to have the best online dating profile to find a date in time for Valentine's. Match now reports that online dating is the #1 way for singles to find a date, with 31% of singles finding love online.
Since Internet dating is available 24-hours a day, it's time to grab your mobile phone and give your Internet dating profile a simple digital facelift.
Here are 8 tips to help your profile stand out.
1. Create a catchy screen name. Some sites just provide you with a number or variation of a screen name if your chosen name isn't selected. Using your first name and a handful of digits isn't catchy. Try to find a name that is unique to you and describes your personality. An example would be MusicLoverNYC if you live in New York and love music. Others would be YogaGirlLA or NurseLori.
2. Leave the novel at home. The best profiles are short and will pique the interest of a potential date. I always recommend 100-125 words in your essay. If it's shorter, it shows that you're not taking online dating seriously. If it's too long, there will be nothing left to talk about on the date. Plus, men don't like to read long-winded profiles. It seems overwhelming and leaves the perception that you could be a high drama person.
3. Post 3-5 photos. Both men and women are visual. Every profile must have 3-5 photos in it, with the primary photo being a close-up shot with a smile. I always recommend that a woman wear red in her profile, as men see too many little black dresses, so you won't blend into the thousands of thumbnail shots. Red is also the color of love and passion. Statistics show that women wearing red do receive more views and emails. Remember to include a full-length body shot, so it doesn't appear that you're hiding anything and don't wear sunglasses in your photos.
4. Ditch the selfies. Although the word 'Selfie' made it into the Oxford dictionary, a selfie isn't the most flattering photo, so keep it off of your profile. Remember, this is your love life resume and if you're hoping to attract the man of your dreams, make sure you look like his dream girl.
5. Ask a question. The goal of online dating is to make your profile come alive and be approachable. If you ask a question in your profile, it makes it easier for your potential date to engage in a conversation with you. After all, you're trying to develop a rapport with someone, not just be a stagnant billboard.
6. It's not All About You. A man would like to imagine what a life with you could be like, so make it easier for him to know. Talk about what date night with you would be like and say, on a weekend, it would be great to go hiking with you on a Saturday morning and maybe take in a film matinee in the afternoon. When you talk about your life's passions, end the sentence with, "what about you?" If you name some of your favorite travel spots, include a question to ask him where his dream trip would be.
7. Be specific. Profiles that are more specific help start the conversation. From a man's point of view, profiles all look about the same. So say you like to travel, and list some of your favorite travel spots. Talk about how you like music and how the Red Hot Chili Peppers are one of your favorite bands and that you enjoyed watching them in the Super Bowl half time show.
8. Dump the cliches. Men know that women love going on beach walks, but if your profile says I like beach walks, sunset dinners, and love to laugh, your online dating profile is filled with cliches. Leave those conversations for your first few dates and laugh when you're together, not on your profile.
At the end of the digital day, online dating is a numbers game. You need to play to win.
Here's more information on how you can get an Irresistible Online Dating Profile.
For more online dating advice, follow @JulieSpira on Twitter and sign up for the free Weekly Flirt newsletter.
Photo credit: © JiSIGN – Fotolia.com

Romance scams have been in the news lately from singles who are members of online dating sites and social networking sites. Every time I hear one of these stories, it breaks my heart. With Valentine's Day putting extra pressure on dating, it's extremely important to make sure that singles are doing their research when looking for a date, whether online or offline.
Know that online dating safety is of the highest importance here at Cyber-Dating Expert.
As a result, I've become a Spokesperson for Spokeo, an online search service which provides publicly available data to help you research your dates.
New research provided by Spokeo and Harris Interactive was just released which shows that 71% of Americans are willing to conduct some kind of informational search about the person they are dating. This tells me that singles are taking dating safety very seriously.
Here are 7 tips to help avoid being a victim of a romance scam.
1. If your date's photos are either blurry or look like they are from a stock photo gallery, or look model-like or too good to be true, it's time to do some digging.
2. Those involved in perpetrating a romance scam want to take the conversation off the dating site quickly and onto a private chat or instant messenger service. This avoids having the conversations documented or traceable by the dating site's software. Until you're sure about your date, keep the conversations on the dating site.
3. If he or she says they're in love with you very quickly, don't jump for joy just yet. Romance scammers often will say they've never felt this way before about anyone before and they've waited their whole life to meet you. Their grammar often isn't correct and they have an accent if you speak to them on the phone.
4. If he or she lives out of town or out of the country, find out where they really live. If their efforts to visit you get repeatedly canceled due to a work or family emergency, you should be raising a digital eyebrow.
5. If your potential date has a work or family emergency and asks you to wire them money, don't fall for it. It's likely they'll say if you really love them, you'll help them out and they'll pay you back quickly. Often the excuse is their funds are temporarily tied up. Don't fall for it.
6. Make sure to look up the data that you have on someone you're dating. This can be easily done by plugging the information you have into an online search engine to see if what you find online matches up with what the other person is claiming. Sites like Google and Spokeo can be very informative to research your date.
7.  If any of these things happen to you, never ever send money. Do not sent money via Western Union or a foreign bank. Report the profile in question to the dating site and understand that you're one of many that this person is writing to try try to sweep you off your feet and promise you a life of love and happiness.
Know that you can do a simple search of your potential date's email address, phone number, or even user name by going to Spokeo.com.
Happy safe dating this Valentine's Day.
Enjoy the Infographic below and feel free to share this with all of your single friends.
Wishing you much love and joy in cyberspace, or wherever you may roam.Julie Spira is an online dating expert and was an early adopter of Internet dating. She creates Irresistible Profiles for singles on the dating scene. For more online dating advice, follow @JulieSpira on Twitter and sign up for the free Weekly Flirt newsletter.
Disclaimer: Cyber-Dating Expert is a paid Spokesperson for Spokeo
35% of Americans Willing to Pay for Dating Research in Order to Feel Safer – An infographic by the team at Spokeo People Search

Facebook is celebrating a big birthday. It's been a decade since Mark Zuckerberg founded "thefacebook" while in college on February 4, 2004.
Ten years later, Facebook boasts over 1.2 billion users. One has to ask, is Facebook now the world's largest digital dating site?
Just how many couples are flirting, connecting, hooking up, and even finding love on Facebook?
When I launched Facebook Love Stories on Valentine's Day last year, I was intrigued to see the variety of ways that people found love on the world's largest social network.
Here are six couples whose love stories will warm your digital heart.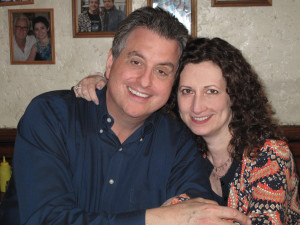 Bonnie and Josh had met 30 years earlier at an advertising agency in New York.
"Working in different departments meant that our professional paths didn't cross much, but we often rode the Fifth Avenue bus home together, as our apartments were in the same neighborhood," said Bonnie. The two married others and lost touch, until Bonnie's son created a Facebook page for her a few years ago.
Bonnie decided to look for old friends and thought about Josh. "I sent him a message asking if he remembered me and he responded within hours, so excited to hear from me," said Bonnie.  Within three days they were talking on the phone for hours at a time, and within weeks made a date for dinner. Josh  showed up with carrot cake and a dozen bagels and Bonnie was hooked.  The two were engaged the following New Year's Eve, and were married August of 2012.
The couple's wedding cake was a delicious Fifth Avenue bus. "In my wildest dreams I'd never have imagined that Facebook would change my life, but it did.  It reconnected me with Josh, and I consider it a miracle," said Bonnie.
Sophie and Trevor were both members of a "Star Wars" Facebook group when they became friends in 2007. Sophie lived in Leeds, England and Trevor resided in Indiana where he was attending University. Neither were interested in developing a long-distance relationship. The two became fast friends as they shared their mutual love of fan fiction.
After three months, Sophie and Trevor decided to meet in person and selected Berlin as the city for their first date. Later that year, they realized they were falling in love.
Over the next several years, the two commuted between Indiana and England, as their relationship flourished.
Both Sophie and Trevor acknowledge that Facebook played a huge part in keeping them connected, during the time of their long-distance relationship.
In 2012, the two finally got married in New York City and are finally living on the same continent, in each others' arms in the Big Apple.
For about four years, Meca and Anthony were digital friends on Facebook, but they never really had much contact with each other. The two shared a lot of mutual Facebook friends and even attended offline events at the same time twice, but they never actually met in person.
As a divorced woman, Meca started blogging about her dating experiences and posted her stories on Facebook. Anthony silently enjoyed reading about Meca's latest dates and started sending her private messages on Facebook.
"I wanted to know why a girl like her was single," said Anthony. Their romance developed on Facebook chat privately and finally one day they decided to exchange phone numbers.
Meca was very hesitant at first, especially as Anthony was an artist. As an accessory designer, Meca didn't think she wanted to date an abstract painter. "I don't date artists," she proclaimed. Soon they discovered that they were indeed soul mates.
The two have decided to save the mushy stuff for the privacy of their inbox.
Patience had a secret crush on Sam in high school, but felt that he was out of her league. They never dated and barely acknowledged each other in the halls. During a formal high school dance, after her date had ditched her, Patience was shocked when Sam asked her to dance and pulled her into a random picture.
Fast forward twenty-six years later, where Sam was divorced and teaching college in Israel. Patience was busy with her publishing career in New York and had serial dated for two decades. When Sam noticed her familiar face in the "Suggested Friends" feature, he immediately sent Patience a "friends' request.
For Patience, it was a no-brainer to be in contact with such a popular guy from high school. She started "liking" his status updates. Sam picked up the phone and called her.  After several months of Skype and Facebook chats, the two fell in love.
Sam asked Patience if he could visit and possibly "marry and father her children." All of her girlfriends thought she was crazy, but she knew there was a connection there. In fact, they had a deal. He would come visit and would leave if they thought it was weird. Fortunately, that was not the case. The two are now happily married and are living in New York. Sam still has the photo from their first dance in high school.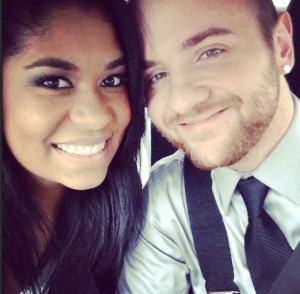 Alexa was hoping to find someone on an online dating site, but was frustrated with the process. Her friends said she'd find someone when she least expected it. That someone was Devin who she met on Facebook.
Devin thought Alexa was cute when he noticed her photo in the "People You Should Know" feature.
"One day I received a 'friend' request from someone I didn't know named Devin," said Alexa. "We had one mutual friend in common, so I thought I might have met him somewhere and just didn't remember. He was the first person in my six years of being on Facebook that I added without knowing in real life," she added.
The rest is history and the two have been inseparable since meeting on Facebook.
Tauna and Jake went down digital memory lane and rekindled their college romance on Facebook.
It all started twenty years ago when Taunia met Jake while in school. The two dated for 2.5 years and then went their separate ways to pursue their career aspirations. "We always knew we were each other's 'true love,'' said Taunia.
Twenty years and a lot of life lessons went by. Taunia had gastric bypass surgery in 2008. She got married, established her musical career, and developed an online following, particularly on Facebook.
Tania reconnected with one of Jake's sisters on Facebook. When Jake's sister noticed Tania's relationship status as "Divorced," she told her brother. Jake immediately contacted Taunia to reconnect and their romance reignited. Jake proposed to Taunia in a romantic holiday trip in front of the Eifel Tower and the two were married in the summer of 2013.
Have you found love on Facebook?
Julie Spira is an online dating expert, dating coach, and founder of CyberDatingExpert.com. She creates Irresistible Profiles for singles on the dating scene and is Editor-in-Chief of FacebookLoveStories.com.

Happy Music Monday.
The biggest highlight of the Super Bowl was the half-time show with Bruno Mars performing.
His song Just the Way You Are is one of the most romantic songs and we're happy to feature it as our Cyber Love Song of the Week. Enjoy these sweet lyrics and maybe even play it for your sweetheart on Valentine's Day.
Enjoy!
Do you have a favorite romantic love song?
Listen to our other featured Cyber Love Songs
Follow @JulieSpira on Twitter.

As we're counting down to Super Bowl Sunday in New Jersey, whether you're rooting for the Seattle Seahawks or the Denver Broncos, one thing is for sure, it's going to be an emotional and exciting two weeks for both men and women alike.
Some questions I always hear from women are, "Do men hate Valentine's?" Guys want to know, "Do women really love the Super Bowl halftime show, or do they act enthusiastically to keep their guys happy or to met men?
I've gone on record as saying the Valentine's Day for Women is like the Super Bowl for Men.  It's a double-header this month, so enjoy the ride and guys, don't wait until the last minute to invite the object of your affection or digital crush out for Valentine's Day.
This weekend is sacred for most American men. It's showtime as most guys count down the days, hours, and even minutes to their favorite television day of the year, Super Bowl Sunday.
Meanwhile, across the hall, women have their own favorite holiday to think about, Valentine's Day. With these two major events less that two weeks apart, it's become obvious that the Super Bowl for men is revered in the same way as Valentine's Day is for women. Whether you're a sports fan or a hopeless romantic, comparing the two will help you understand how important these days are for the opposite sex.
Why do I think the Super Bowl for men is like Valentine's Day for women? Quite simply, both men and women put all of their emotional energies into these two bigger-than-life events. Often, a woman doesn't understand why watching two teams trying to score is so important to her guy. He just can't miss this game. Guys on the other hand, simply don't understand that if you're dating a woman and forget to plan something, just anything for Valentine's Day, you probably won't get a date with her on February 15th, or shortly thereafter.
Men wait all year for the Super Bowl, this big day in television. Women wait for Valentine's Day with the hope that their special guy will either propose, offer to take his online dating profile down, or say "I love you" for the first time. Women even secretly hope that the guy they are dating might want to change his Facebook status from "Single" to "In a Relationship."
Men are very prepared for the Super Bowl. They decide which venue and with whom they would like to spend watching the big game. In January, many women start giving little hints about their favorite romantic restaurants, hoping their guy will take the cue and book a reservation before the venue becomes full.
However in contrast, when a man's favorite team loses the Super Bowl, he will be disappointed but will get over it. He'll know there's another chance next year and will spend the entire football season rooting for his team. If a woman's favorite beau or someone she is dating doesn't ask her out for Valentine's Day, she won't get over it. She'll assume he's romancing another woman and will know she's not on the top of his list. Chances are, his shelf life as her number one guy will immediately expire. Unless he's out of town on business or in a long-distance relationship, he won't get another chance to romance her. No woman wants to be at the bottom of the totem pole, especially on Valentine's Day. Expect to be unfriended, or don't be surprised if she doesn't return your phone calls or texts.
So whether you like football or not, love or hate Valentine's Day, remember to talk to the person you are dating about what these days mean to you. If you're single, use this opportunity to accept all invitations for both the Super Bowl and Valentine's singles mixers. Even if your team loses and you're dateless on the 14th, you'll be casting a wider net and expanding your social circle.
So go ahead and accept that Super Bowl party invitation. If you're single, you just might find a date in time for Valentine's as well. It's a win-win for everyone. If you need help with your profile or online dating advice, our special 15 Magic Minutes is going on through Valentine's Day.
And speaking of Valentine's Day, here are some gift ideas to embrace and those Valentine's gifts to ignore.
Related: Social Media Rules for Valentine's Day
Which team will you be rooting for this Super Bowl?
Julie Spira is an online dating expert and author of The Perils of Cyber-Dating: Confessions of a Hopeful Romantic Looking for Love Online. For more dating advice follow @JulieSpira on Twitter, sign up for our Weekly Flirt and like us at Facebook.com/CyberDatingExpert.