FOR IMMEDIATE RELEASE
National Panel of America's Top Love, Dating, and Relationship Experts Announced for Fall and Winter Tours
LOS ANGELES,  CA  (September 10, 2014)  –  4th Street Media, in partnership with Match.com, is proud to announce that THE GREAT LOVE DEBATE has chosen ten of the nation's freshest, most talented, and dynamic voices to serve as The Debate Team; offering online, offline, and onstage expertise as part of the expansion of the brand and tour.
"After 50 shows in North America, we have had the privilege of working with hundreds of the leading specialists, personalities, and coaches in each city," says Brian Howie, the show's creator and producer.  "We have chosen ten experts with unique skills and styles, which will allow us to take the Debate to an even more enlightening, entertaining, and empowering place for singles and relationship enthusiasts around the world."
The Great Love Debate is a lively, interactive Town Hall-style discussion and debate on the current state of the date that is comprised of an audience of 200 of each city's most eligible bachelors facing off against 200 of its most dynamic single women to answer the question, "Why is everyone still single?"
The Debate Team is led by Dr. Wendy Walsh, America's Relationship Expert, Author, and Media Personality.  The other Team members are Jasbina Ahluwalia, Matchmaker, Dating Coach, and Radio Host; Thomas Edwards,  Social Strategy Consultant and Founder of  The Professional Wingman; Louie Felix, Renowned Dating Coach and CEO of Matchmaking VIP;  Adam Gilad, World-Famous Author, Speaker, and Dating & Communication Expert;  Mark Owen, Founder of Events and Adventures, America's Largest Singles Activities Group; Traci Porterfield,  Dating & Relationship Coach and CEO of Love By Design; Kimberly Seltzer, America's Top Dating Makeover Expert and Confidence Specialist; Julie Spira,  America's Top Online Dating Expert and Digital Matchmaker; and David Wygant, World's Leading Dating Coach and Relationship Expert.
Spira, an early adopter of online dating, founder of Cyber-Dating Expert, and bestselling author will be appearing at the Great Jewish Love Debate at Sinai Temple in Los Angeles on October 27, 2014. Tickets can be purchased at jlove.eventbrite.com with a $10 discount using the promo code julie10. She will also be appearing in New York, Miami, and other events in the Los Angeles area.
###
Follow @JulieSpira for online dating advice and sign up for the free Cyber-Dating Expert Weekly Flirt newsletter.

As celebrities and everyday people are flocking to Tinder for dating, and playing the digital love game, it's no surprise that single Brittney Spears is thinking of looking for love online.
Tinder is now verifying celebrity profiles and Yahoo – Australia reports that Spears reports that at the debut of her lingerie collection in New York, said admits that finding love in cyberspace is possibly an option.
Later, Spears appeared on the 'Tonight Show' with  Jimmy Fallon, where the late night talk host added her to the mobile app in a fun skit.
Before introducing Spears, Fallon described her as:  "She's recently single, she sings good jingles, she loves her Pringles and she's ready to mingle."
He added, "Here at 'The Tonight Show,' we're all about making love connections, so before the show you did something cool. You let us sign you up for the dating app Tinder," Fallon continued, stating the profile is indeed real.
"I want to stress, Britney had nothing to do with this. This was our idea. But she has the password now and it is her profile. She can do whatever she wants with it…. If you guys are on Tinder and want to date Britney Spears, just look for her profile and swipe right. That means good." Spears responded with, "I'm thrilled!"
Celebrities with verified profiles are now swiping right and left on Tinder. Other celebs include Ed Sheeran, Katy Perry, Lilly Allen, Lindsay Lohan, Chelsea Handler, and Bravo's Andy Cohen, who have created profiles on the hottest mobile dating app.
Watch the video of the 'Tonight Show' segment here.
Other celebrities have joined a variety of online dating sites in the pre-Tinder days, including: Sinead O'Connor,  Martha Stewart, Matthew Perry, Adele,, Jenny McCarthy, Charlie Sheen, Ricki Lake, Chase Crawford, Carrie Ann Inaba, Cheryl Cole, and the late great Joan Rivers.
At the end of the digital day, logging on for love in cyberspace or from the convenience of your mobile phone when you find yourself single is the easiest way to get back into the dating game.
Photo credit: Yahoo: Australia – Celebs We Wish Were on Tinder
Julie Spira is America's Top Online Dating Expert and Digital Matchmaker. She was an early adopter of the Internet having created her first profiles 20 years ago. Today, she helps singles on the dating scene with her Irresistible Profiles programs and to help them find love from the various mobile dating apps. Follow @JulieSpira on Twitter for more dating advice and sign up for the free Weekly Flirt newsletter.

If you're busy sending emails to potential dates online and are frustrated with the lack of response, our friends at online dating site Zoosk have come up with some simple suggestions on how to move the process along in their "7-Step Guide to Landing a Date."
Here's a recap, along with a cool infographic to help ramp up your Internet dating life so you can meet that special someone offline.
1. Add a date activity to show someone you really do want to go on a date.
In a recent survey of 3000 of their members, Zoosk found that mentioning movies as a favorite activity in you profile and even suggesting a movie date increases your response rate to your email messages by 91%. Yes that's a big number and one worth viewing film trailers for. Other keywords included the beach (59%) and a park (39%).
2. Send emails in the morning if you're a man; in the evening if you're a woman.
Guys will increase their chances of a response by 10% if they send emails between 9am and 10am, while the best time for women to send email messages is between 10pm and 11pm. So ladies, send that flirty email and go to sleep with a smile on your face and avoid sending an email from 2pm – 3pm.
3. Respond within 24 hours.
As for when you should respond to an email, 94% of those surveyed said within 24 hours. I have to agree with this one. Remember when someone is emailing you, they're sending emails to many others at the same time. Often the squeaky wheel gets the love deal, so playing too hard to get will likely backfire.
4. Focus on what makes you unique.
If you want to stand out in a crowded digital playground, talk about your date's hair, their gorgeous eyes, fun or geeky glasses, and even their tattoo. Remember to be fun and flirty. Stay away from the sexual comments, which received a digital thumbs down from Zooskers.
One of the biggest challenges I see singles struggling with is what to write in their first email. First impressions do really matter and your email should be more than, "hey." Here are a few interesting tidbits.
5. Character count matters.
Guys didn't seem to care how long the first message was from a woman, but 40% of the women did indeed want to see a message that was longer than a full-length tweet of 140 characters.
6. Expect to send 5 emails.
Finally, how long will it take to get to the first date? About half of the singles polled said they send 5 email exchanges before putting his or her name on their date card.
7. Schedule your first date.
If you follow this plan, you should be filling up your date card and taking your relationship offline.
Wishing you much love and joy in cyberspace, or wherever you may roam. xo
Are you using any of these tips while looking for love online?
Julie Spira is America's Top Online Dating Expert and Digital Matchmaker. She was an early adopter of online dating and creates Irresistible Profiles for singles on the dating scene. For more dating advice, follow @JulieSpira on Twitter and sign up for the free Weekly Flirt Newsletter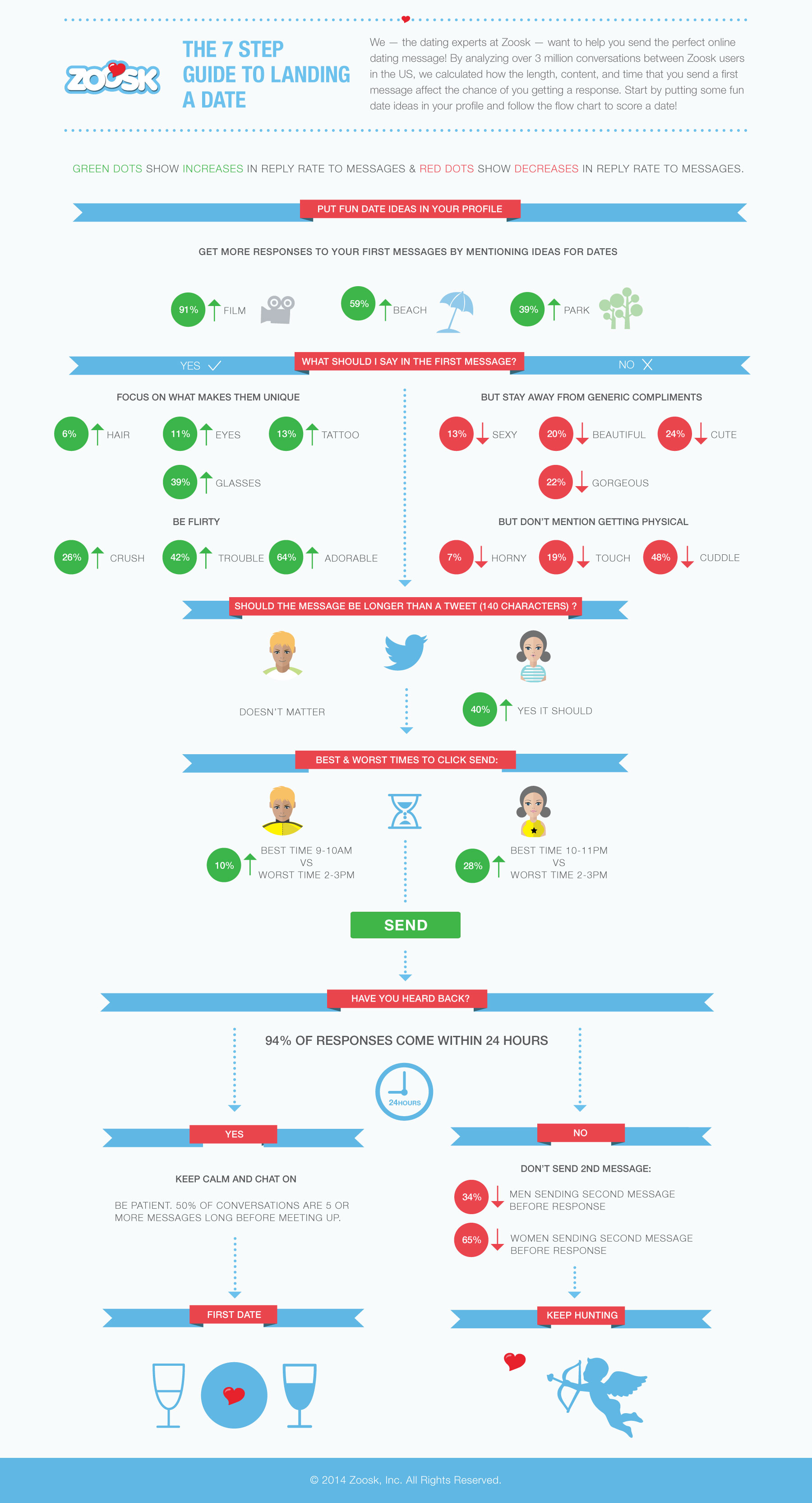 Love never goes out of style, but did you know the entire month of August is National Romance Awareness Month?
We're so delighted to announce that Cyber-Dating Expert has teamed up with ProFlowers to make your life a bit more romantic month in our Romance and Roses Giveaway.
We'll be giving three lucky winners 2-dozen roses at the end of August.
Just follow the instructions below to enter to win these lovely roses.
PLUS ProFlowers is hosting a Love is a Journey contest and will be sending a lucky couple to Europe for 18 days! Comment on our blog and upload a photo of what romance means to you on Twitter or Instagram using the hashtag #LoveIsAJourney and #ProFlowersSweeps for a chance to win an 18-day European cruisetour from Pro Flowers.
This giveaway offer is valid in the continental United States for adults 18+.
Follow @JulieSpira on Twitter for dating advice.

It was an honor and joy to be invited to Match.com's headquarters in Dallas with the top relationship experts in the country.
After a full day of meeting with their executives, we finished the day with an interview on our top dating tips for a first great date.
From what to wear to where to go, we hope you enjoy our video below.
Questions we answered included:
1. First date: Coffee Drinks or Dinner?
2. Should you dress up or down?
3. Is it a group date or a real date?
4. Do you leave early if there are no sparks on a date?
5. Who pays for the first date?
6. Mamas boys: runs or cuddle?
7. One question you should always ask on a first date?
Enjoy our video and post your comments as well.
What are your first date tips and deal breakers?
Julie Spira is America's Top Online Dating Expert and Digital Matchmaker. She was an early adopter of the Internet and creates Irresistible Online Dating Profiles for singles on the dating scene. For more dating advice, follow @JulieSpira on Twitter and sign up for the free Weekly Flirt newsletter.